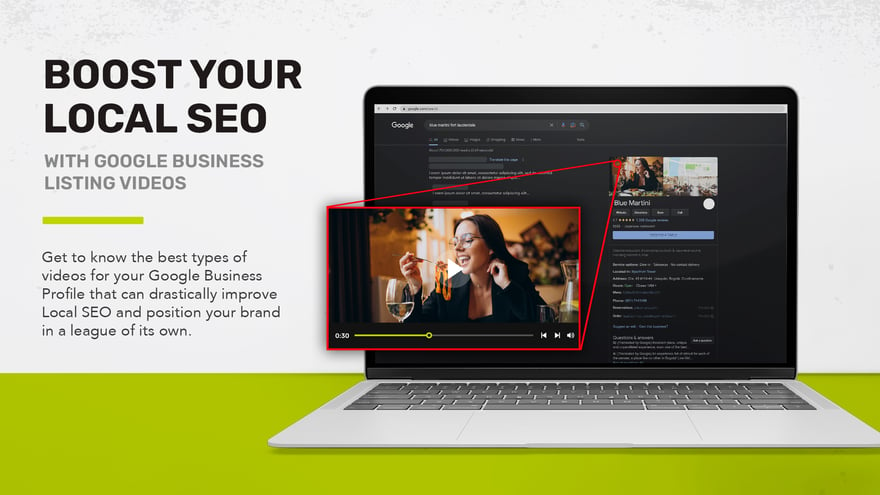 Now that Google Business Profile has added the use of video to its platform, businesses can boost their local SEO with an engaging video on their location profile. Utilizing this updated feature you can position your brand in a league of its own, let it stand out in mobile search, and ultimately attract more customers.
While this is a terrific opportunity for businesses to increase their presence online, it has the potential to fall flat if the right types of videos aren't presented. Here we'll discuss the best types of Google Business Profile videos that are used to improve local SEO. We also explain how to add these videos to your business profile, but first, let's help you to understand how this platform works.
What Is A Google Business Profile
A Google Business Profile (GPB) is a tool provided by Google that allows companies to create a local listing on their search engine, predominantly geared for mobile searches. Once a business has a physical setup and occupies a premise at a designated location, people can discover them online via Google search. More specifically, by providing all the necessary information to establish a business profile, your company becomes visible on Google Maps, local business search results, and other Google platforms.
If a company has multiple locations, it will have to create a separate Google Business Profile listing for each physical location. Companies will also need to provide a physical address rather than a post office box address or other proxy business address. This is verified by Google with a mailed postcard in many cases.
When you have successfully set up a Google Business Profile listing, customers will now find your company on Google, plus they can also leave reviews, add photos and videos, and look up the store/office hours, address, and contact information. This engagement is the lifeblood of many brick-and-mortar business.

Importance of Videos for SEO & Mobile Search
Creating a quality video for your Google Business Profile will improve the Search Engine Results Pages (SERPs) and ranking of your listing. Google's algorithm prioritizes unique and relevant content, which is why videos have the best potential to impact your GBP's search engine rankings.
Nowadays, more people are drifting towards watching videos online as opposed to any other type of data source. Furthermore, 75% of viewers use their smartphones to watch videos online. So to fully take advantage of this new media ecosystem, adding a video for mobile search to your business profile is a must to increase your online presence.
The fact remains that videos are sure to outperform any other online marketing strategy. It is the best way to pique interest and engage potential customers while improving sales. Also updating and managing your GBP information regularly and establishing a custom map listing for your business will help to boost your mobile presence so that your business stands out among the competition.
Specifications For A Google Business Profile Video
Now you must be thinking, 'How do I add a video to my GBP listing?' Well, Google makes it pretty easy to include videos on your business profile, but there are a few set requirements for the types of videos you can upload. For instance, videos must have a resolution of 1280 x 720 minimum, should not exceed 75 MB, and can only span a duration of up to 30 seconds.
How To Add Video To Your Google Business Profile
There are two different ways to add a video to your business profile - either from your GBP dashboard or directly from Google search.
Business Profile Dashboard - Sign into your Google Business account, then from the dashboard:
Navigate to "Photos" from the menu.
Select "Add videos."
A file browser will pop up for you to drag or select videos from your computer. Choose the video file and add to your profile.
Google Search - Log into your Business Profile account, then type your business's name into the search bar and tap enter. Once the mini dashboard appears:
Tap the "Promote" button.
Select "Photo."
The same file browser will pop up for you to drag or select videos from your computer. Choose the video file and add to your profile.
Note: Your video content may require further review by Google, if so they'll let you know.
How To Highlight Your Video
If you have established a catalog of videos and would like to highlight a particular one, whether it's new, advertises a promotion/ sale, or suits an occasion, simply add it to "Posts." This way, it will stand out from all the other media grouped in your library.
To get this done, open your Google Business Profile dashboard:
Select "Posts" from the left menu or "Create post" on the main page.
Choose the ‌post type, whether "Offer", "What's New", "Event", or "Product."
Select "Add photos or videos" and upload the video you want to post.
Tap the "Publish" button.
Note - If you need help figuring out the post type for your video, Google's guide to posts will provide more information. After six months, your posts will be archived but you can specify otherwise before publishing. Also, Google Business Profile provide insights so that you can see how well your video posts are performing and help you better understand the type of content that people are engaging with to make better business decisions.

The Best Type of Videos For a Google Business Profile
The most impactful videos for your Google Business Profile listing are those giving viewers a tour of your space, an "About Us" outline, and an "Offering" summary. These videos must convey all this information in a 30-second time slot while being as engaging as possible.
That being said, a short-form or advertorial type of video would be the best option for your Google Business Profile listing. Utilizing these formats and combining captivating visuals and voiceovers or testimonials where real clients talk about your product, service, or company is a terrific way to bring your brand alive in a quick couple of seconds.
Now let's explore these video types further:
Tour Of Your Space
People sometimes want to see the setup and ambiance of a space before actually visiting. This is particularly true for retail stores, restaurants, gyms, hotels, theme parks, and so on. Many companies just like showing off their chic and inviting office space. In such cases, a video tour would be the perfect addition to include on their GBP.
When someone checks out a company's Google Business Profile listing, usually they would be looking for information about their specific location, geography, and navigation. So when creating a video tour, be sure to include what the establishment looks like, how to find it, and what to expect onsite.
About Us Video
An About Us video is a terrific opportunity to highlight the culture and expertise of your company. Using a persuasive voiceover explaining what your brand is all about and what makes it better than the rest can definitely win over customers. This type of video works best for businesses in the service industry or those with a traditional office setting.
Offering Summary
An Offering Summary video can incorporate an About Us profile and video tour in one go. After all, you want to show people all that your company has to offer. Businesses in the hospitality sector, such as restaurants, pubs, and salons, where both the space and the service are critical selling points, can benefit a great deal from a well-thought-out offering video. For example, you can quickly brief prospects of your business offerings with a single speaker, interpolated with footage of the location, and screenshots of the attractions, menus, products/services, and customers enjoying your space.
A Google Business Profile video is also a powerful tool for corporate businesses and franchises running major ad campaigns. There's no better place than a GBP to highlight a 30-second ad. Adding an existing TV ad to your business profile listing is also possible. So if you currently have a great advertorial that anchors a specific sales campaign or message about your brand, be sure to upload it on your GBP to maximize your presence via local search.
Let Trifactor Make Your Videos Stand Out On Search Engines
Boosting local SEO with video goes beyond establishing a great Google Business Profile listing. Creating the right type of video to meet Google's specifications, as described above, is a minuscule aspect of optimizing search engine results for your company.
With the help of our team at Trifactor, we will create a multifaceted, well-executed local SEO video that can run across multiple media channels to guarantee better ranking and wider audience reach that will capture the viewing of serious buyers.
For a specific Google Business Profile video, our team has worked with numerous clients who have profited significantly with the videos we created for their company. In fact, these clients saw a huge rise in organic traffic and leads by including our video in their local SEO approach.
Take a look at some of the videos we can create for your GBP listing, and be sure to check out our Video Solutions page for the type of video services we offer. Or simply call us about making a video for your GMB listings today!