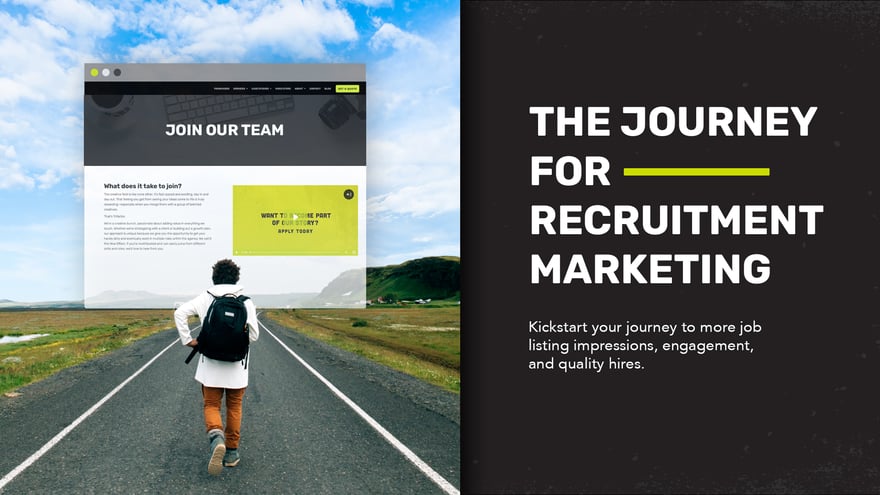 Video remains the most versatile and impactful digital tool in advertising and promotion. Similarly, it is the most effective tool to implement in a recruitment marketing strategy. This is especially the case for appealing to Millennial and Gen Z professionals. A study by Google found that 1 in 2 Millennials and Gen Z's have claimed "They don't know how they'd get through life without video." With that said, it's evident that video needs to be a part of your recruitment marketing strategy in 2023 and beyond.
As we continue, we will explain the importance of using video in your recruitment marketing campaign, and share examples of the type of recruitment videos you can use to improve the recruitment process, attract and retain top talent and create a strong employer brand.
What is a Recruitment Marketing Video?
Whereas a marketing video is used to promote or inform audiences about your brand and products, a recruitment marketing video rather highlights a particular job opening or general hiring initiative and shows potential candidates what it is like to work at your company. Recruitment videos guide prospects through every step of the candidate journey, i.e., from the initial awareness stage to the consideration, interest, application, selection, and hiring processes.

Typically, a series of recruitment marketing videos is used to provide a complete picture of your company's culture and convey the value behind the employment opportunity. Each video in the series should cover a different aspect of the business. These aspects could be the brand overview and mission statement, employee value proposition, a walkthrough of a particular job listing's prerequisites, or providing details for the application and interview process.

Brands can use recruiting videos across various digital channels and formats, such as their own website, social media marketing, and programmatic advertising to maximize their recruiting efforts.

Why Incorporate Video In A Recruitment Marketing Campaign
Video is the most powerful way to communicate your message, educate, and influence an audience. As such, it can provide an excellent resource for your recruitment marketing plan, allowing you to reach the best candidates, create awareness and engagement, and drive action. Video also gives candidates clarity throughout a recruitment marketing and employer branding effort, simply because viewers better understand and retain 95% of a message when they watch it on a visual display, compared to the 10% retention they have when reading text alone.

According to statistics, the most effective job posts have video implementation. In fact:
According to CareerBuilder, job posts with video icons are viewed 12% more than postings without video.
Job ads with embedded video get 800% more engagement.
Job postings with video have a 34% greater application rate than those without, according to a CareerBuilder survey.
82% of candidates look for jobs on mobile, and 87% of mobile traffic is video content.
Video posts on LinkedIn are shared 20 times more than other formats.
Talent pros say video has the best return on investment (ROI):
80% of respondents believe video has helped increase the volume of applications.
78% say video has helped increase the quality of applications.
88% of respondents who have used video believe it generates more responses from passive candidates.
85% believe their investment in video had a great ROI.
How Recruitment Videos Help Attract Top Talent
Video in recruitment marketing specifically assists the talent acquisition strategy so as to attract top talents in the field. Additionally, they improve the recruitment process and can help to create a strong employer brand. Here's how:
Video has better audience reach – A Wordstream report stated video generated 1200% more shares than text and images combined, ultimately increasing audience reach to attract the right candidates for job postings.
Video attracts more job posting views & gets more applicants – CareerBuilder found job postings with video icons are viewed 12% more and have a 34% greater application rate (as noted before).
Video boosts search results presence - According to Brightcove, video drives a 157% increase in organic traffic from search engine results pages (SERP).
Video ensures a cultural fit - Videos can vividly showcase everyday life at your workplace, allowing potential candidates to determine if they'd make a great fit for the job.
Video best promotes your employer brand - Videos will present your brand as a great employer and drive favor among potential candidates, from telling your startup story, highlighting the company values, and employee value proposition - all while demonstrating your company culture.
Video enhances the candidate experience – Video can be used in all facets of the candidate journey to deliver timely, personalized, and engaging messages, and content regarding the recruitment process.
Video saves time – Using video saves time in screening and interviewing job applicants and further scheduling, traveling, and welcoming candidates into the office.
Video saves money - Video reduces spending on promoting job positions across multiple channels. An Aberdeen Group report also found that 72% of managers surveyed identified a "reduction in travel costs" as the primary reason for using video interviews.

Types Of Recruitment Videos
We have rounded up some of the most essential recruiting videos that will kickstart your journey to more job listing impressions, engagement, and quality hires. We hope these examples inspire you to implement video into your next recruitment marketing campaign.
Target & Attract Ideal Candidates
Recruitment videos to target and attract potential candidates will easily position the context of a job role within your company and highlight its culture. It allows candidates to envision themselves working for you and see how well they'd fit in.
Persona Identification & Implementation
Video can put into effect multiple strategies to help companies identify talented candidates so that they can fill positions with the right people. By tailoring the most impactful message and implementing the right strategies, videos can easily attract the ideal individual persona to join your work family.
Brand Culture Videos
Brand culture videos give candidates a candid view of the culture, family, professionalism, and community spirit of the people working within a company. Prospects can envision what life would be like at work and see how they compare to existing employees. For instance, a 'Day In A Life' video is a terrific way for candidates to see how others juggle the daily demands of work and life at home, etc., while an executive feature video allows potential candidates to be inspired by the leaders within the company.

When developing your video recruitment strategy, keep this stat in mind: Candidates are more likely to trust the employees working for a company 3 times more than other company sources. In 2021, the Edelman Trust Barometer uncovered that employees are the most trustworthy content sources.
Benefit Overview Videos
A Benefit Overview video offers a unique proposition to candidates by explaining the benefits provided by your company. These videos focus on building trust and engagement so that you hire and retain top talent. In all, they help encourage potential candidates to take the leap into the future with your brand.
Corporate Communications Videos
Corporate videos can range from an About Us or Mission Statement video to quickly get prospects up to speed with what your brand is all about. From there, potential candidates can know if they will meet the expectations of your brand or a role within the company. Additionally, these videos will articulate the greater mission and vision that will help convince the right people to apply.
Other Corporate Communication videos will highlight your workforce during significant corporate events such as conventions, and large training sessions, giving potential candidates a glance at work life outside of the office.
Make Video A Part Of Your Recruiting Marketing Strategy
To get ahead in today's candidate-driven job market, videos are a must in your recruitment marketing plan. Creating the best types of videos to effectively aid the recruiting process and land top talent while positioning your brand as a frontrunner in the industry takes some know-how. Fortunately, at Trifactor, we can help you connect with top talent in a much more meaningful, personalized & effective manner. Call us today to discuss how we can help maximize your recruitment marketing strategy with video!