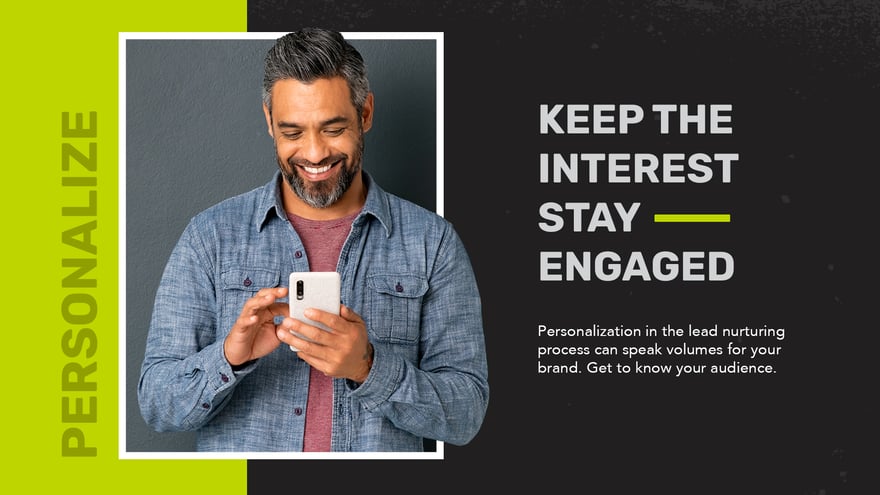 Gone are the days of generic marketing. We're now in a technological age where personalization ultimately wins conversions. The lead nurturing process involves a series of strategic events to connect and engage with potential buyers, but personalization is where marketers get crafty in converting prospects into customers and keep them coming back for more. Connecting with the right team of marketing experts will help make this a reality for you and your brand.
How The Lead Nurturing Process Work?
The lead nurturing process involves a strategy to engage a targeted group of buyers by providing information that is relevant to their needs while supporting their interests along the path of the buying journey.
During the process, a company's efforts are designed to inform, build awareness and gain the trust of the buyer, so when it's time to make a purchase decision, the more secure option points to their brand.
Guiding potential buyers to make a purchase with you is everything in the lead nurturing process, you want to ensure that they are continually engaged and interested in the content you've put out there. Targeting through multiple touch- points, combined with timely follow-ups and personalization is necessary to see this process through, as well as build the relationship between you and your buyers.
Why Personalizing Is Important?
Personalization in the lead nurturing process can speak volumes for your brand, by simply appealing to someone's color preference can influence them to shop with you and not another company.
According to a study by Accenture, 75% of consumers are likely to purchase from companies that get personal, that refer to them by name, and make recommendations based on their past shopping trends and purchases.
Data provided by McKinsey states that 76% of consumers said that receiving personalized communications was a key factor in prompting their consideration of a brand, and 78% said such content made them more likely to repurchase. In fact, 76% said they get frustrated when companies don't deliver personalized interactions.
How To Personalize The Lead Nurturing Process
Personalizing your lead nurturing is an ongoing process, like talking to your prospects the entire way through the buying journey and at the same time keeping them invested.
The most successful lead nurturing strategies deliver content through multiple marketing touch-points, whether you use a mix of content distribution methods like social media posts, blog posts or direct mail, each should be designed with personalized focus to 'nurture' your prospects into customers.
Personalization starts with identifying your prospects.

Identify Who Is Your Ideal Buyer
Knowing your buyers' interests, purchasing behavior or history is key yet one aspect of developing a personalized lead nurturing strategy. Additionally, you may want to know a range of other facets, like their identity (gender and age) demographic to even their pain points.
Once all this information is established, you can begin creating what's called a buyer persona. Buyer personas are the most valuable tools that you can provide to a sales and marketing team. This way we can understand exactly who your target buyers are to then tailor content that will be appealing and relevant to them. This will prompt desirable interactions between you and these prospects and ultimately improve conversion rates.
Utilize Marketing Automation
Using automated data collection to retrieve your prospects' details is a must for any lead nurturing strategy. A customer relationship management (CRM) or marketing automation software eliminates manual implementation, to automatically track the actions and behaviors of your audience's online searches, page visits, clicks, etc. The system will effectively consolidate and optimize this information to provide data insights for you to better communicate and nurture prospects from the very start to the end of the sales funnel.
Marketing automation software, such as HubSpot, allows marketers to effectively utilize data to produce meaningful, personalized content that will help move prospects through the buying journey.
Not only does the system provide real-time data on your prospects, showing the time spent on your site, pages viewed, location, etc. but at the same time, issues savvy call to action (CTA) at the right moments, for instance, "Chat with Us," "Request a Quote" or "Order Here" as they browse through your site.
HubSpot also delivers automated targeted follow-up emails in a timely way to cross-sell and upsell customers. The buying journey doesn't end after a conversion is made, but is rather picked up post-purchase to keep the lead nurturing process in rotation.
Use Zero-And First-Party Data Collection
Implementing zero-and first-party data collection is also useful way of gaining a prospect's personal information to boost engagement. While zero-data collection involves a person's own willingness to provide their data in exchange for something of value (you can offer a discount, coupon, exclusive access, etc.), first-party refers to data that is captured from cookies and other metrics on your website based on the users' behavior and referral source.
According to a recent Google report, marketers who integrate first-party data across channels see a 150% boost in cost savings and nearly 300% revenue growth. According to Accenture, 83% of consumers are willing to share their data so companies can offer a personalized experience. However, it's important to balance personalization with privacy.
Accenture analysts advise companies to allow users to self-profile and determine how they want to be known by the brand. "Customers are the data locker. They'll unlock if they know the exchange is valuable," according to the report. "If you give them a compelling reason why they should be sharing their data with you, they are more likely to do so."

Create Engaging Content
Creating the content of what your prospects will see is one of the most important aspects of the lead nurturing strategy. After all, if your content marketing delivery falls flat so does consumer interest and what would have been subsequent conversions. A personalized and engaging content marketing strategy for lead nurturing will hook prospects all the way through the buying journey. A Demand Gen report stated that an average 20% increase in sales opportunities were achieved through leads with personalized content.
Creating strategic content for multi-channel points, including landing pages, blog posts, email, etc. must be tailored to speak to a prospect's interests, preferences, and pain points – then balance this engagement while at the same time provide an effective and clear call-to-action (CTA), taking them from awareness and moving them to make a decision.
Personalizing With Video Connects Better
A solid lead nurturing process is one that gets personal with a consumer on an intimate level. By identifying empathy points and delivering high-value moments while selling a concept, a company can help consumers overcome several friction points - the fact is nothing communicates that better than video.
Video is one of the most powerful marketing tools and the best investment you can make for the lead nurturing process. With the right creative video marketing team, companies can grasp a prospect's interest in ways surpassing even their own expectations to immediately prompt sales.
A HubSpot survey reported that 76% of marketers said video in the lead nurturing process helped them increase sales. Another, 86% of video marketers say video has been effective for generating leads. Overall 92% of marketers who use video say that it's an important part of their marketing strategy.
Our video marketing team at Trifactor understands just how important using video is in the lead nurturing process. We excel in creating effective, high-converting video marketing strategies that are guaranteed to kindle new interest, engage prospects, and also extend the reach of your brand to a wider audience.
Not only do we help to create intimate buying personas specific to the video marketing strategy but also use these personalized details to create attractive and compelling content through the buying journey that prospects will find hard to ignore or resist – and that competitors can't replicate.
Speak with our creative team today so you can connect with prospects and consumers using engaging almost 'magical' marketing videos and join the forward-thinking few who are dominating the playing field.