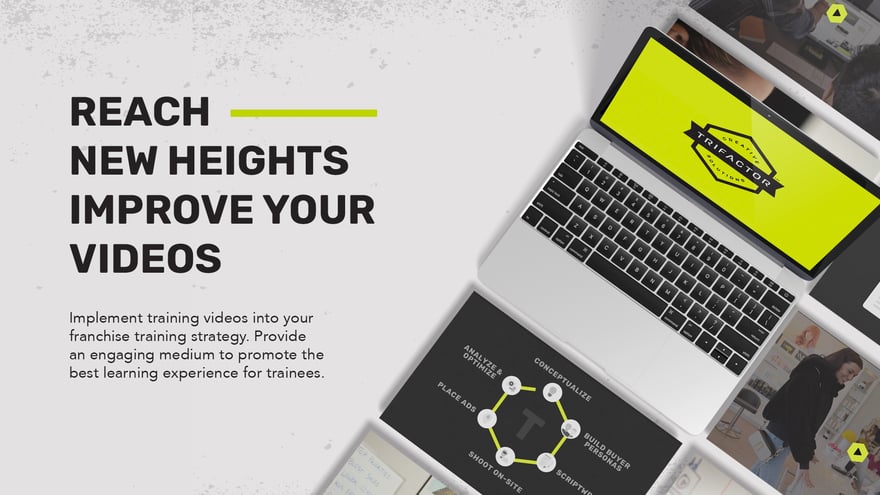 One of the most valuable resources a franchisor can offer a franchise owner is a robust training program that will coach them on how to run the business and employ systems for training staff. This is especially instrumental in maintaining brand quality and services across the board.
Franchise training has had to adapt to new landscapes now that the pandemic has changed what prospects want for the long term, and especially as Millennials and Zoomers (Gen Z) are of growing focus. When it comes to training delivery, most franchisors put great value in face-to-face interaction and would want nothing more than to return to that model, but like with any change in life, they will have to move with the times. A progressive approach is modifying the training delivery method and there's no better way to do this than by using training videos.
With applied research and the versatility of video, we can help provide an environment for instantly accessible training guidance, and optimize business processes as your franchise concept expands.
Reaching New Heights With Franchise Training Videos
Implementing training videos into your franchise training strategy will provide an engaging medium of instruction to promote the best learning experience for trainees; something Millennials and Gen Zs will certainly appreciate.
Video is widely used in learning platforms for corporate training. Industry data shows that 88% of large companies, additionally 77% of midsize companies, and 64% of small companies reported using this technology. Why? Videos are completely adaptive to different learning methodologies, and can readily be integrated with the latest technologies that impact learning.
A solid training video can effectively communicate a significant amount of details about your franchise's brand and operation. A visual instructional display can hit out all the points that an in-person training session could, for instance providing detailed information about the brand's mission, system standards, operating procedures, practical rules, and pretty much ensure that the people you've trusted with your company, run the business efficiently. Every franchise will have a unique set of company values and processes and the beauty of training videos is they can bring these individual concepts to light.

Why You Need Video Training Manuals For Your Franchise
A video training manual offers an extensive list of benefits that will help optimize business procedures and efficiencies of your franchise. Let's look at ten ways video helps your franchise training program.
Guide –

Training videos can serve as a guide for trainees in the post-training stages, similar to a training handbook or tutorial, of course better. They can also be used as a guide or even a source of reference for trainers during the training delivery process. A

Mimeo Survey

saw that 74% of trainers used video learning to aid their training delivery.


Customization –

Franchisors can tailor training videos to communicate exactly what they want their trainees to learn. Videos are also an opportunity to teach technical tasks and operations that are unique to a company.




Engaging Content -

Videos offer aesthetic visuals and augmented content delivery, which is undeniably more captivating to watch. They are a proven method to not only grasp an audience's attention but also help them retain up to 65% of the information

based on studies.




Accessible Learning

–Training videos can be uploaded on any learning platform so trainees (and new franchisees) can access the content. Trainees can also access video training manuals anytime and watch them as many times as needed so they can learn at their own pace.




Improve & Motivate Learning –

Not only can training videos explain a process with more clarity than written words

but research shows

videos improve the motivation and participation of trainees to better prepare them for the tasks ahead.


Saves Time –

A well-organized video can teach a lot more and at a quicker pace than it would take an instructor to deliver the content or for a trainee to read about it. Forrester Research estimates one minute of online video equates to approximately 1.8 million written words.


Standardized Content –

This is important to maintain brand quality and standards. Utilizing video to impart training translates to consistency; the content will remain the same for every training session as opposed to relying on live delivery from different instructors.




Convenient –

Training videos can effectively substitute face-to-face training sessions when in-person training is restricted or unavailable, especially with the pandemic.




Relatable & Friendly –

For many, videos can be a less intimidating training delivery tool. A 2021

Systematic Review

saw that learners preferred to watch instructional videos instead of reading material or listening to live instruction. This is especially true if they have reservations or fears about a particular task.


Affordable –

Opting to use training videos preserves budget spending, eliminating the occasional setup costs for training material, resources for scheduling, trainers, and support, along with other associated expenses.

Creating Your Franchise Training Video
It's important that franchisors have a clear longer-term training development program in place for franchise owners. Franchise training videos are a good start to establishing a reliable catalog of accessible training material for staff.
While you would want to create a video training manual to effectively deliver instruction, our video creative team at Trifactor can help you make a bigger impact on your trainees. With the videos we create, not only will they learn and absorb the content better but also feel motivated and excited about their tasks moving forward.
We collaborate closely with our clients to create engaging and resonating, ready-to-use video content that fits their brand. We delve head-on into your franchise journey to understand your brand, business concepts, and procedures. From there, we design completely tailored content with well-thought-out and organized instruction to execute your training material to trainees.
Once we've created your catalog of training videos, they can be uploaded to a learning platform of your choice. We handle everything from arranging the videos on the platform to customizing the display for the most effective delivery to trainees and staff. Accessing our videos on the platform is also the perfect way to demonstrate aspects of your franchise operational system to new franchise owners.
Feel free to connect with our creative team so we can help begin establishing your very own franchise training solution.