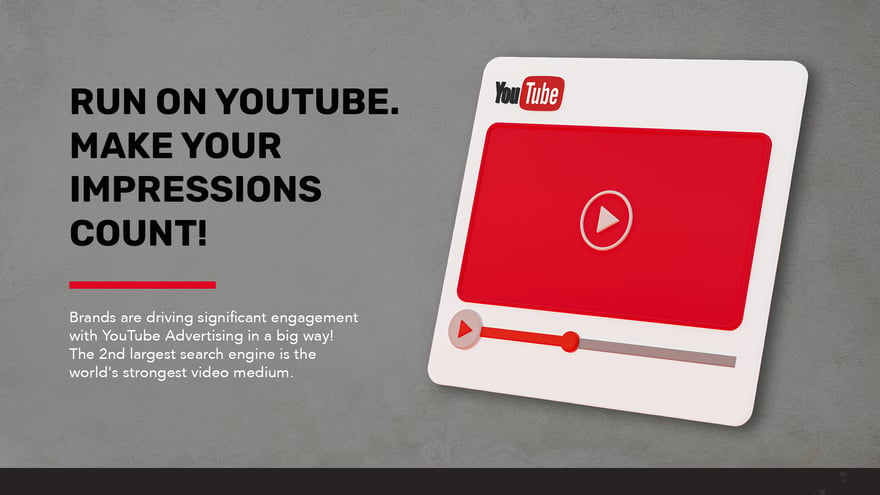 There has been a huge growth in the advertising sector in the last few years, especially with the effects of the pandemic. Video ads on social media have since been ranked as one of the most competitive ways to connect with consumers online and prompt conversions. This was largely contributed by the giant of consumable data - YouTube. Industry experts have already predicted that YouTube advertising will explode in 2022 and beyond, so marketers will need to step up their game to create a solid YouTube marketing campaign.
The YouTube Stats Say It All
There is a plethora of data out there showing that brands are gaining dramatic growth from placing video ads on the likes of Facebook, Instagram, Snapchat, and Twitter, however, the stats show that video is consumed on YouTube more than any other social network.
Following its parent company Google, YouTube is the 2nd most visited platform in the world with close to 5 billion videos being watched every single day. Over 1 billion hours of video are watched daily on the platform in 88 countries in 76 languages, according to YouTube's statistics. They are also the world's second-largest search engine, offering tremendous reach for advertisers wanting to amp up their success rate.
Marketers have been seeing overwhelming success on YouTube in the last few years. There was a 99% increase on YouTube in branded video content between 2016 and 2017. Looking forward, all the signs suggest that usage and spend are on course to continue their growth throughout 2022 according to a Wyzowl Research via Hubspot. In fact, they reported that more than 99% of current video marketers will continue using video in 2022, with two-thirds planning on snowballing their spend. So far 85% of marketers publish video content on YouTube, and a whopping 83 percent found it to be an effective strategy.
YouTube To Blow Up Social Commerce
Among the next big digital marketing and advertising trends in 2022, YouTube ticks off on the list as one of the social e-commerce platforms expected to take things to the next level. YouTube, along with social platforms such as Instagram and TikTok, has made it seamless for users to shop for products and services within the app, giving significant rise to social shopping or social commerce.
Alison Battisby, Social Media Consultant at Avocado Social, predicts social shopping is set to become absolutely huge this year. "TikTok has partnered with Shopify, Instagram is making huge developments with their shopping area within the app," and "YouTube is also looking at enhancing their shoppable tags within videos," she said.
According to an Accenture study, social commerce is expected to reach $1.2 trillion globally by 2025 - a growth that's three times faster than traditional e-commerce.

YouTube Advertising Is Set To Take Over
As the advertising sector moves away from traditional and connected TV, to instantly shop savvy social platforms, marketers are expected to put more advertising efforts and campaign planning focused on YouTube.
"YouTube is going to explode in terms of investment from advertising in 2022," says Brendan Almack, Managing Director of Wolfgang Digital. "I feel like it's a sleeping giant, but I think that the move away from linear TV, fragmentation with subscriptions, and streaming services all means that more advertising spend is going to move to YouTube."
Last year YouTube's global revenue grew to nearly $29 billion, up almost 46% from 2020, due in part to the rise in more traditional TV advertisers on the channel, driving programmatic video ads, direct response (DR) ads, and brand advertising. This growth saw the social media platform leveling up with streaming titan, Netflix.
Almack also stated, "The scope for growth or headroom for growth is absolutely huge. It's still super cheap for CPVs (cost-per-views) and the big brands aren't there, or not doing it really well. This means that everyone can eke out a competitive advantage by having a smart YouTube advertising strategy."
The sad reality is the future of linear TV looks pretty grey at best; advertisers are now looking beyond television to a prominent substitute with YouTube, considering it is owned by the most sophisticated and powerful AI company.
Loup Ventures Managing Partner, Gene Munster has agreed, "YouTube is now best positioned to deliver on something we've talked about for a decade, which is two people watching the same live event but getting different ads. That's an extremely valuable product for advertisers so there's massive potential there."

Boost Your Campaign With An Explosive Ad
If you were to look at the brands that have morphed into mega players in the last few years through their video marketing campaigns, it will give insight into the potential of other brands and more importantly, what works.
Groupon, for example, took an approach that went beyond standard demographic targeting to create contextually relevant videos based on the kind of content their audience consumes. By simply putting videos in context, they created recipe videos for foodies and travel videos for jet setters, which proved to be the company's winning formula on YouTube.
For Groupon's CMO Vinayak Hegde, it was a no-brainer, "Intuitively it makes sense — if someone is on YouTube searching for videos about microdermabrasion, you'd think they'd be more receptive to an ad about a beauty deal. The testing proved our instincts were right: contextual relevance really is key to success," he said. Groupon's video marketing campaign resulted in approximately 160,000 new paying customers and gave the company a 20% rise in brand preference.
YouTube offers the widest variety of video and ad formats to choose from than any social network. Besides the hours-long of movie-type streaming slots available on the platform, marketers can opt for just a short six-second bumper ad to catch a viewer's attention – of course, this is no easy feat for the layman.
There is a lot that goes into creating an explosive YouTube ad, from knowing your target audience (audience segments + context) to tapping into digital marketing strategies that keep your ads running in timely rotation and optimize your rank and reach through impactful metadata, keywords and calls-to-action, plus much more.
Understanding how to advertise on YouTube is just one hurdle in this competitive advertising rat race, another is putting together the perfect ad. Face it, we've all rolled our eyes while watching some pretty cheesy ads that come our way so the last thing you want is for your own brand to fall victim to this type of disregard.
When it comes to creating a compelling and competitive ad, it's best to leave the technicalities to the experts. Our marketing team at Trifactor are a dynamic and talented group of video marketing specialists with a proven track record for designing irresistible, show-stopping ads for our clients. The wake of 2022 has presented a competitive advertising space, admittedly by the efforts of professionals like us, so it is by far not an unbeatable one.
As YouTube continues to make massive advancements in the coming months, brands will need to evolve to stay relevant and competitive. Call us today so we can start designing a winning video ad for your brand and kick your YouTube marketing campaign into high gear.