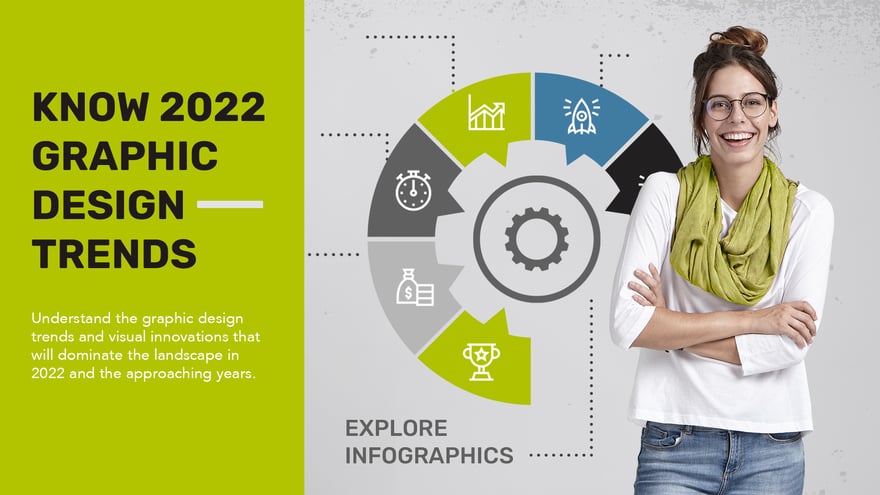 For brands wanting to make an impactful first impression, keeping up to speed with the current visual and graphic design trends can be the difference between stopping customers in their tracks or having them move on to better things. Significant shifts in the economy these last few years have influenced the way content is being received and so marketers have had to change the way businesses communicate with customers. Here we discuss the graphic design trends and visual innovations that will dominate the landscape in 2022 and the fast-approaching years, so brands like yours can stand out from the competition and leave lasting impressions on audiences.
Top Graphic Design Trends
The latest visual design and digital marketing trends now utilize a representative marketing strategy that implements inclusive visuals and graphics that looks appealing, fun, and colorful. Marketers have also been able to engage and reach wider audiences by tapping into social trends on highly visible platforms such as Instagram, Facebook, and YouTube in their marketing campaigns. We explain these strategies in more detail below.

1. Inclusive Visuals
Brands have finally started to 'read the room' before pushing out standard content and have moved towards being more inclusive in their creative strategy. The reality is that no one customer is the same, whether it's race, background, or shopping preference, so why focus on engaging with a single client demographic.
That's why inclusive visual is the top graphic design trend of 2022, as it allows brands to connect to human life in a more meaningful way. Video visuals, images, and even icons now show diversity in race, gender, and body type, moving away from the typical White/ Caucasian, cisgender, and able-bodied males.
At Trifactor, we are a multicultural agency so our digital marketing services put a great deal of attention on developing persona identification and implementation, this way our clients can target the right people in the right way.
Whether we're using infographics, motion graphics, or videos in a marketing campaign, our approach uses multiple strategies to help companies create the correct buyer personas with the right message to reach diverse clients and appeal to their distinct buying behaviors.
We also take the time to implement Hispanic adaptations in our creative strategy, as merely translating a piece is never enough for brands to connect culturally with clients. In actuality, what works for one culture won't for another, so understanding the core concept of your business is important for us to create an impactful campaign that speaks to a diverse group of people on a profound level.
Additionally, we create visual marketing material that showcases diversity within our client's own workforce so that they can better connect with a vast audience. It's a visual design trend that has proven to work on both sides of the fence, and will continue to do so in the coming months and beyond for brands like yours.
2. Fun Data Visualizations
Data visualization is a powerful tool for communication that presents data clearly and effectively using a chart, infographic, diagram, or map. This type of visual display merges both art and data science to make the content look professional, but with playful colors and cool concepts can be a lot of fun and very appealing to the eyes.
With more and more brands adopting the use of simple charts with fun data visuals, it has become one of the new graphic design trends of 2022. Twitter Marketing, for example, has been observed to use data graphs to cover fun topics like gaming and summer activities, while LinkedIn Marketing has also taken to creating data visualizations about more complex B2C and B2B topics but of a lighter tone.

3. Bold Backgrounds And Colorful Icons & Illustrations
Along with fun data visualizations, newer graphic design trends also see bolder and brighter colors making their way to visual displays. The use of bold colors contrasted with lighter text is implemented in designs to make videos and images pop, which is especially necessary on social media and the busy online space. By also pairing bold backgrounds with equally colorful icons and illustrations has long been a powerful marketing tool, and is a surefire way to make viewers click on what it is that you're advertising.
Graphic designers are also mixing flat and 3D icons and illustrations to make visuals look trendy. This design approach is a great way to add more dimensions to graphic displays; this helps put more emphasis on the central message of social media posts, infographics, or blog posts.
Our graphic design team at Trifactor knows all too well that the look of your brand is essential to its message. For that reason, we utilize these same game-changing graphic design trends and tailor them in such a way to fit our clients' brands.
The versatility of our team takes on all aspects of the graphic design process, from designing website layouts, social media posts, and video motion graphics to creating physical product labels and trade show equipment. We also offer sessions with our Creative Director to help clients brainstorm the right imaging and concepts for whatever project they have.
4. Branded Memes, Quotes, And Social Screencaps
Memes, quotes, and social screencaps have all become particularly huge on social media, especially in the last two years, and so brands have tapped into the craze by using them in as many marketing strategies as they possibly can.
Branded memes are a fun and dynamic way to connect with audiences, simply because there's a meme for everything and everything can be turned into a meme.
Quotes these days, instead of focusing on inspiration, are now used to highlight a brand's initiative instantly. They are a highly relatable method to engage audiences, whereas customer quotes build trust.
Social screencaps have become increasingly popular for just how social media savvy they make expanding a brand message to different audiences. Brands can share versions of the same post on multiple social media channels hassle-free and what's more fascinating is social followers can't resist them.
As such, the concept behind branded memes, quotes, and social screencaps has given rise to one of the most fun graphic design trends of 2022. Getting into these social media tricks of the trade can be challenging to grasp. Though they are fun and engaging strategies if used incorrectly and completely defeat the purpose of a marketing campaign.

Wondering how to make these shifts and stay ahead of the branding/design curve?
Trifactor's marketing team takes away the intimidation of doing tasks like these by offering comprehensive digital and social media marketing services to our clients. We implement all the top graphic design trends and more to boost your company's image on all the social platforms and give your brand a competitive edge like no other.
We're always eager to flex our creative muscles and help clients take their brand to next level. Call us today to discuss your vision so we can begin upgrading your brand and message with the latest graphic design trends of the new era.