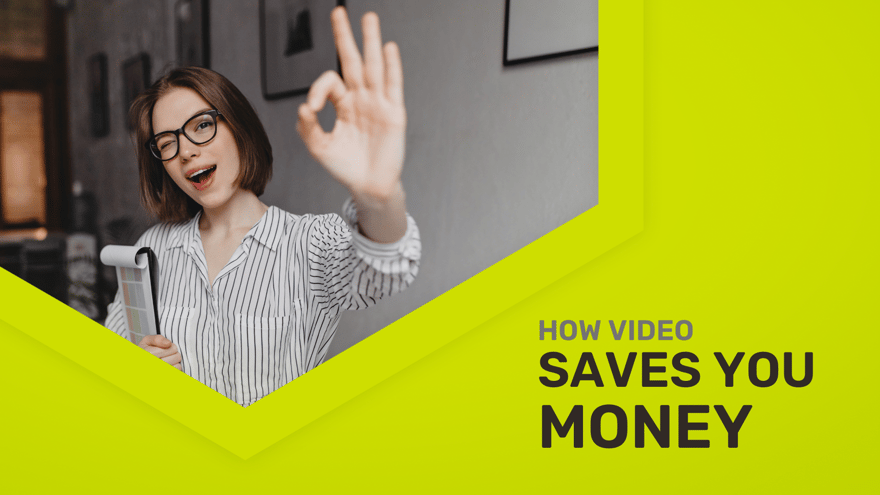 How can a video-centric approach to content save you money? Incorporating video can drive sales, streamline internal operations, and capture online attention.
In a world dominated by shareable content and influencer discount codes, it's more than apparent that video is leading the market. Video content has been a given for any savvy brand looking to make a splash with consumers. If you're not using video, you might want to join us in the 21st century. Video ads are a no-brainer. But more than just incorporating some content on social media, video not only generates sales, but can save time and money in operations processes as well. Adopting an approach of video centricity, wherein video contributes not only to sales and digital marketing, but to the overall operation of your company, is the key to standing out while saving time and money.

Let's break down three important reasons why video content is crucial for the bottom line of your business.
Time is, in fact, money

When onboarding new employees, video saves money and promotes clarity. Video training frees up the time of senior staff, and managers can be assured that training is cohesive and consistent. In addition to saving time, digital training is a huge money-saver, with companies all over the world investing in new and better ways to train.
Video can also streamline and simplify audience-facing content. Imagine a video with a friendly face answering frequently asked questions, explaining product assembly, or demonstrating product use. With video, consumers have access to reliable, visual information whenever they need it. With this heightened access, consumers are more likely to spend time perusing your website and growing their interest in your product. This level of engagement is a more efficient approach and enhances the customer experience. The results of all that online engagement ultimately translates into dollars for your brand, while the output is the fixed cost of video.
More shares, more dollars

When it comes to digital marketing, we know for a fact that video is one of the most effective tools available. It's so embedded in our daily lives, we sometimes end up watching hours of branded content without even realizing. Thanks, autoplay! But when a consumer sees something really special, well-made, hilarious, or even irreverent, they don't just keep it to themselves. They share it. Sharing on social media is a coveted way to get your message across. While there's no exact recipe for the magic sauce that makes something go viral, there are certainly things that you can do to increase the shares and spread the love.
More than any other format, video can build hype for your company, express your unique voice and style, and establish a story that will resonate with viewers. And the data backs up that resonance—videos are shared on social media 12 times more than text and photos combined. The more your content is shared, the less you need to spend on additional advertising, and the more money you'll ultimately save.
Raise your hand if you'd like to make money

Cost is often a prohibitive factor when it comes to investing in quality video content. It's never easy to dish out cash without guaranteed results. And if you're a small company, or just starting out, it might be difficult to justify the cost of a video. You're at a crossroads. To get eyes on your brand, you need to have captivating imagery that draws attention. It needs to have the flair, style, and messaging you want to convey to the world—but you have $3 and a prayer and you're not quite sure how to put it all together.
Video may seem too costly when your cousin dabbles in graphic design and will make you a flyer for free. But aside from just saving money, can video content make you money? Absolutely. Cliche, I know, but you've got to spend that money to make it back. In fact, 89% of video marketers saw return on their investment in 2020. With video marketing, your messaging is compelling and effective, shortening the selling cycle and raking in those returns.
Can you afford video marketing? With the right strategy, video can be accessible to companies on a variety of budgets and stages of development.
Whether you're looking to streamline internal operations, grow your brand awareness, or increase your sales, video is a key component for any brand looking to stay relevant and spend their budgets wisely. The current market is ruthless, competitive, and extremely cluttered. But there are ways to rise above the fray and connect with audiences all while spreading your coin. The experiences of your customers, your employees, and your brand can be elevated with the use of video. Implementing a video-centric strategy will not only yield those tangible financial results, but bring you closer to the people you're connecting with, share your messaging, and take your brand to the next level.
Great videos can do more than just advertise. Want to see examples of all the ways video can impact you? This is how.