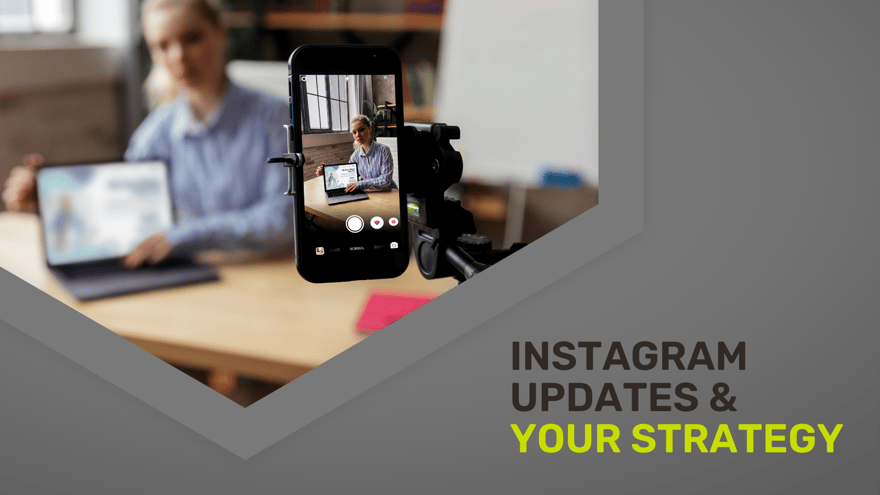 Ah, Instagram. It feels like the moment you finally understand all the features and algorithm complexities, updates emerge. Digital marketing best practices and social media platforms are like living organisms, changing and evolving, and influencing the way content reaches your audience.
Most often, updates, tweaks, and changes will roll out monthly. But why are these changes so frequent? Well, aside from typical bug fixes, Instagram is constantly monitoring the way that users interact with content, and adjusting accordingly. The app's goal is to serve content that is the most engaging to the right audience.

So how does this affect marketers? Usually, these monthly alterations are not too life-altering, but it's important to stay up to date to best plan your content and execute your strategy using the latest data from Instagram.

Let's break down what's new and upcoming in 2021.
New tools for businesses
For IG creators and business accounts, the app has rolled out the Professional Dashboard. This menu gives you the option to view analytics, tools, and other account data. These resources already exist on the platform, but this new dashboard keeps things seamless and easy for business who carefully track engagement and post performance. And since 90% of Instagram users follow at least one brand account, you can further leverage this data to interact with them.
So long to sharing posts to stories
Stories are nearly as popular as the feed itself. Over 86% of IG users post content to their stories. But more and more, those stories are reshares of main posts. While this was popular for a time, it may be falling out of favor. Instagram's research indicates that users prefer organic content in stories, so they're looking to potentially remove the option to share main posts into stories.
Social media integration
Instagram is constantly looking for ways to align not just their content, but it's presentation with what's trending. With the popularity of TikTok and IG Reels, the app's developers are considering presenting stories in a vertical format, so the platform's 500 million story users would swipe up between stories, mimicking the experience of other popular apps. To further integrate, soon Tweets will be shareable in stories and feed posts more seamlessly, no more screenshots necessary.
Algorithm updates
The ever-illusive algorithm routinely makes minor updates to fine tune it's curation of content for users. But some major upcoming changes could affect how marketers create content. One of the most impactful changes is the ranking of different types of engagement. In the past, liking and commenting were the two main ways to increase your rank user's feeds, but this may be changing as the app tests removing likes altogether. So without likes, what is there? Shares and saves. Sharing posts directly with other users, or saving the posts to personal app storage will result in the favor of the algorithm. Many brands are adding the amount of saves they receive into their engagement rate calculations. Adding likes + comments + saves divided by impressions x 100 to equal their true engagement rate. And with ideal engagement rate landing somewhere between 2.3-4.2%, saves could give you the boost you're looking for.

This update can vitally inform the way marketers create content for the app. Now, some content may shift from being simply interesting or visually appealing, to something save-worthy. Tips, resources, tutorials, etc, that will motivate the user to refer back to that post in the future.

So how does this impact your strategy? Here are a few key takeaways from the 2021 updates.
Relationships over reach
While every digital marketer wants to maximize reach, what will actually boost your posts organically is genuine relationship-building on the platform. Sharing user content on your page, encouraging users to tag you, promptly responding to comments on your posts, and actively commenting on the posts of users, influencers, and other relevant accounts are all relationship-building tactics that will pay off.
Go where the people are
It's not just posts and stories, you've got to branch out. IG Reels and IGTV are getting increasing engagement among users, and priority from the algorithm. They're consumable, shareable, and guaranteed to boost your rank on the feed. I mean, we could talk forever about the benefits of maximizing video content in your digital strategy...
Customize your strategy
There are a ton of general best practices and recommendations floating around. But the most effective way to leverage your Instagram presence is to follow what works best for your company. If posting between 9-11 am doesn't get results, stop doing it. Instagram has helpful analytics available to business accounts to pinpoint what days and times get the most engagement. Customize your strategy to suit your business, not the other way around.
Most importantly, a solid strategy can outlast and overcome any updates or changes, when it's focused, specific, and personal to your brand. Instead of focusing on numbers, hone an engaging strategy that connects and resonates within your community, and gets people talking.

To optimize your unique digital marketing strategy, give Trifactor a call.