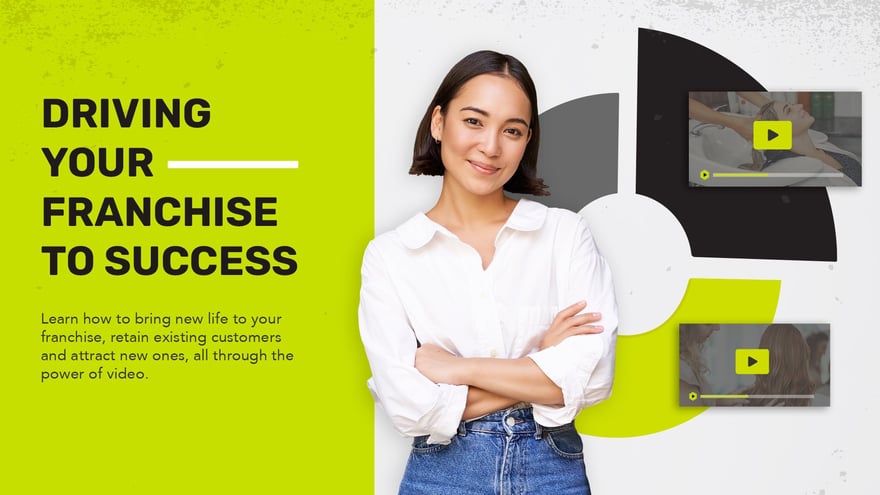 If you're a business owner that may be struggling with how to bring new life to your franchise, retain existing customers, and attract new ones, as well as differentiate your brand from your competitors, then video marketing may just be the boost you need. While the growth and success of any franchise is reliant on a combination of several factors, there is no magic equation; however, marketing and advertising can play an integral role in driving this success. Specifically, video marketing can add much-needed dimension to your campaign and is a powerful way to wake your business out of its franchise coma.

As a franchise owner, one of your main goals is to increase brand awareness by diversifying engagement with your audience, hoping to lead to higher conversation rates and ROI. For instance, adding a video to the landing page of your website can actually increase conversion rates by 86%. What better way to promote your products and services than to speak directly to your market and showcase what your franchise has to offer? In fact, 68% of consumers say they want to learn about a new product through video versus other platforms such as text-based articles or even infographics.
The Power of Video Marketing for Franchises
At Trifactor, we understand the needs of the franchisee and believe in providing scalable and customizable video solutions that can be easily integrated such as:
Franchise Sizzle Videos
Day in a Life Videos
Case Studies
Masterclasses
Executive Features
Qualifying Moment Videos
Commercial & Promotional Videos
New Location Features
Testimonial
Franchise Conventions and Event Recaps
Curated testimonials
So what makes video marketing so special? Video marketing is unique in that it allows for a wide range of options for style, tone, and purpose, all carefully crafted to deliver the exact message in a manner consistent with your brand. Unlike static images or articles, videos elicit stronger emotional connections with your audience as expressions, mannerisms, tone, and feelings come across in real time, rather than relying on the audience to interpret those messages themselves.

Benefits of Video Marketing
The benefits of adopting video into your marketing campaign are far-reaching. Literally! Viewable on almost any device, videos can be posted to a wide range of channels to reach as much of your target audience as possible. Since cell phones are now used as the main vehicle for people to search for content on a daily basis, the demand for quality video content will continue to increase. As a franchisee, this creates even more opportunities to connect with your audience and capitalize on the fact that you can be sure that you're getting the most bang for your buck.
So where does your audience go to watch these videos? According to research from Wyzowl, YouTube continues to lead the pack with 90% of marketers using this channel to promote their videos. Followed closely by social media giants Facebook and LinkedIn and Instagram, videos posted to a variety of similar channels are also used. Videos can also be posted to landing pages of your company website and included in your email/newsletter campaigns.
Another benefit of utilizing video as a medium for promoting your franchise or business is that video tends to rank high on social media feeds. This means that SEO (search engine optimization) is greatly improved. Videos are easy to post and easily shareable, making this the perfect platform to deliver targeted messages that can reach much further than you can imagine.
Franchise owners also reap the benefits of video as a valuable resource in their sales toolkit for creating personalized, engaging content in the lead nurturing process. This process strategically engages a targeted group of prospects by providing information that is relevant to their needs. Otherwise known as a sales funnel, several steps enable a company to gain insight into your potential customer's thought process throughout the purchasing journey. Understanding the way your prospects think is key to investing in the appropriate marketing activities and strategically targeted messages that will eventually turn them into paying customers.
At Trifactor, we have developed processes driven; solutions-oriented sales video systems for our clients. These 5 video systems work to lead them through the sales funnel of attracting, interacting, converting, and acting on new customers and are building blocks for establishing the right channel for franchises to do everything from selling their products to training stakeholders.
Choosing the right videos for your sales campaign is important. Our 5 video systems include:
Sell:

Product Features, Testimonials, and Case Study
Promote:

Event (Convention/Trade Show), Video Campaigns, Landing Pages, and Ads
Service:

Explainer Videos, Product Demos, Best Practices, Tutorials, and Guided Tours
Onboard:

Brand Training, Product Knowledge, Sales Skills, and Buyer Personas
Train:

Process Training, System Training, Skills-Based Training, and CX Optimization

Get rolling with the right type of video
Depending on where your franchise is within the sales funnel process, the right video solutions at your disposal make reaching your franchise goals even more obtainable.
Here's a look at some of the types of video options that we offer through the expert guidance, design, and execution of our team.
Corporate Video solutions- Put a face to a name and open the doors to your prospects to get to know your company more personally.
Product feature videos – A great option to showcase new and improved products.
Training programs – Through the power of dynamic video, incorporate effective and efficient training at any time or place.
Testimonials – Give your loyal customers a platform to say what they liked best about your products and services, and why they would recommend you!
Webinar experiences – These videos can capitalize on the efficiency of pre-recording your session, a great way to supplement a live video.
Convention & Tradeshow Loop videos- The possibilities are endless for incorporating video individually at your booth or on a larger scale throughout the convention.
Video marketing programs- Perfect for a franchise model, video marketing programs are effective and engaging.
Social clips- Step up your social media game by incorporating social clips into your social media strategy
While we believe in a holistic approach to branding and marketing your franchise, there is no doubt that as we look to the future, innovative video marketing is where it's at. At Trifactor, our goal is to stay at the pulse of emerging technologies and trends in the industry so that we are always bringing the best solutions to our customers. Contact us today to discuss how we can help your franchise engage with customers more effectively and bring more life to your sales campaign through the power of video.