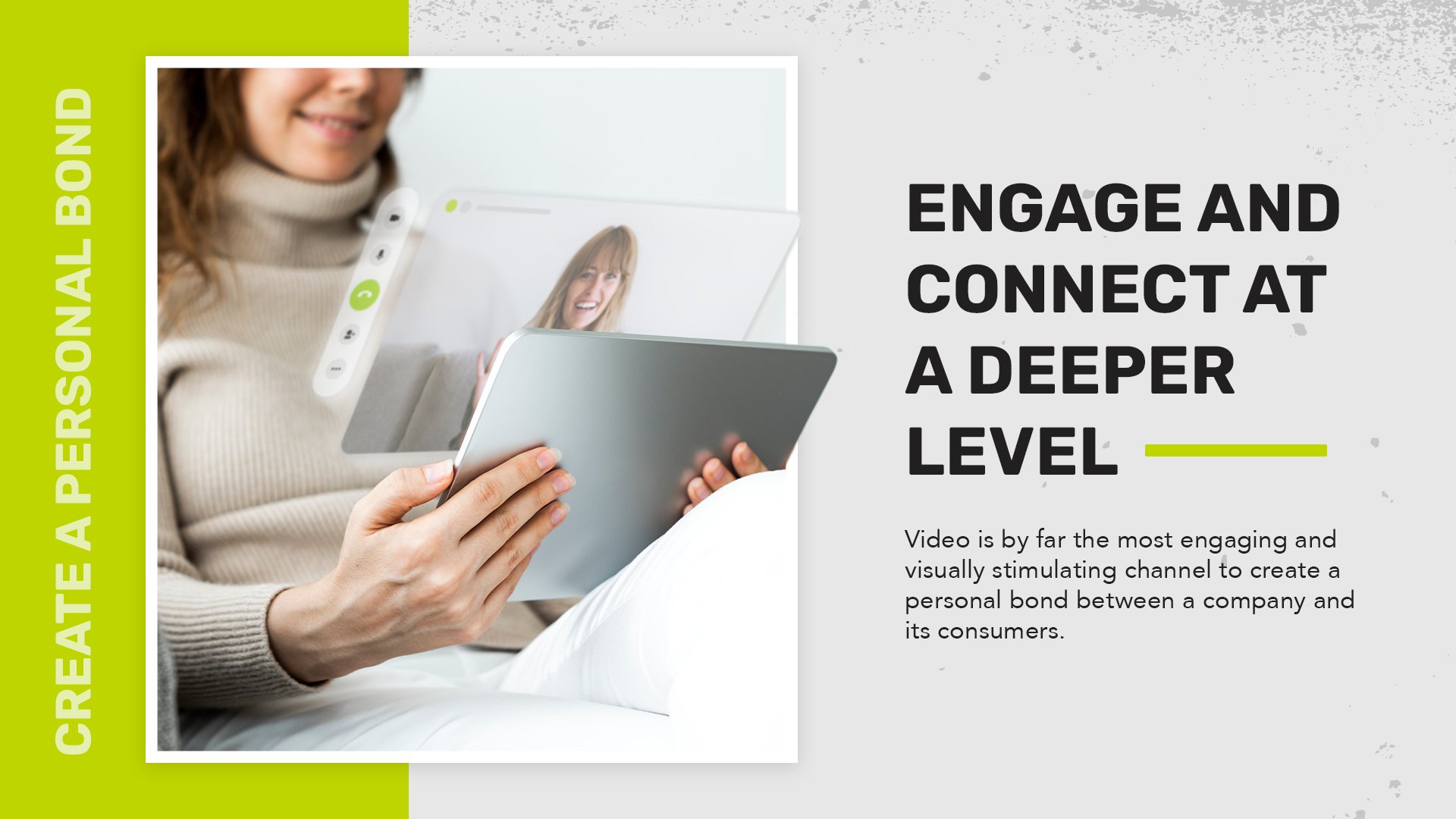 There are tons of reasons why companies should implement video into their marketing and sales strategies. For one, they can leverage video marketing to build stronger connections with prospects. Doing so requires a specific catalog of videos at different stages of the marketing and sales funnel, and of course, the creation of some pretty impressive visuals.
Here we'll provide tips and insights on how to leverage video marketing to connect with consumers and clients on a deeper level. From creating engaging content to targeting the right audience. We will also cover all the key elements of a video marketing strategy for your business or franchise growth.
Why Brands Should Utilize Video Marketing
Video is by far the most engaging and visually stimulating channel to create a personal bond between a company and its consumers. More so than written content and static imagery. Its growth as a medium is more significant today, thanks to more digitally engaged users on social media and smartphones. Simply put, videos speak volumes, connect quickly, and make content easier to digest and retain.
Video gets your brand message across
Unlike any other medium, videos can show visual cues and nuances in our expressions that are essential for absorbing and understanding the content. When audiences watch videos capturing these genuine human responses, they take in so much more than the facts to also absorb the emotion and feeling of what is being portrayed. There is no better way than using a brand video in this way to get your message across while leaving a lasting impression and building trust with prospects.
Videos reach viewers with a short-attention-span
With the rise of on-the-go smartphone usage and those Instagram Reels, TikTok sound bites, and other rapid-format social media channels, people are increasingly disengaged by long-form marketing strategies. The fact is, many people have incredibly short attention spans, especially if they are being introduced to something new. So, by creating quick consumable marketing videos, such as short ads with strong calls to action both at the beginning and end of the video, brands can deliver value while keeping their viewers interested and engaged.
Videos help maximize your marketing efforts
Companies and franchises are maximizing their marketing efforts by using video to increase brand awareness and establish a comprehensive sales development process. In other sectors, video marketing can help with the brand validation process, value propositions, recruiting efforts, and provide an accurate account of operating details or services and products offered. Working with a video marketing agency, like Trifactor, is an incredible opportunity to tailor specific types of videos that will achieve these business initiatives and more.
Using Video Marketing As A Powerful, Interactive Tool
Turning videos into an interactive tool is easier now than ever thanks to the development of Live Feeds on social platforms, videos embedded with clickable URLs, and even those educational types with automated surveys. With such dynamism, these videos not only increase viewership and draw a higher engagement rate but also help retain user focus, which has proven to increase conversions and sales.

According to findings by HubSpot, 64% of users are more likely to buy a product online after watching these videos. So whether you want to advertise a product or service, deliver information, provide entertainment, or build trust, creating an interactive video is the way to go.

Interact with great videos
It goes without saying that videos used in any marketing campaign should have the wow factor. Besides the interactive perks previously mentioned, they should include eye-catching graphics, innovative storytelling, and other unique ways to grab attention. They should relate to people's pain points and convince them to buy whatever you're selling. Creating such a unique experience is no easy feat and may have to take on a wide range of creative approaches which are best achieved by a video marketing agency.
Use videos to interact on social media
Whether you've crafted a snazzy brand video or simply have an announcement or promotion you would like to share, there's no better place to do so than on social media.

Placing a short video ad or snippet of a longer one on the Live Feed of your company's Facebook, Snapchat, Instagram, or Twitter feed is a great way to engage audiences. Also, by going Live regularly, you can offer audiences direct, real-time insights about a new product, promotion, company event, and so on.

In addition to showcasing your brand in the most authentic way possible, it's also the most powerful way to communicate and build relationships with your audience. Live video is also the best place to get an immediate reaction from followers and conduct Q&A sessions. According to Livestream, 80% of audiences would rather watch a live video than read a blog post, and 82% prefer live video to regular social media posts.

Run ad campaigns with video
Delivering key points at the right moment during your audience's decision-making journey is imperative for any ad campaign. Running advertisements through a cross-channel campaign, i.e., via websites (landing pages), social platforms, emails, connected televisions, and mobile devices, are also necessary to reach users at all stages of brand discovery.

According to findings by HubSpot, embedding an interactive, educational video on your landing page can increase conversion by 80%. Also, including video ads in an email campaign has proven to produce better results than traditional written /fixed image ad content. HubSpot found that videos in an email led to a 200-300% increase in click-through rate.

Other effective ad campaigns utilize banner ads and in-stream video ads that play within other video content to get a brand message seen and heard quickly. This can be done with pre-roll ads before a video plays, mid-roll ads during a piece of content, or an ad after a video plays.

Targeting The Right Audience
A part of leveraging video marketing to build strong client connections involves targeting the right audience. Rather than throwing a video ad out to the wide expanse of online users, a more effective approach would be to find the people who are actually interested or need your brand's offerings and then make your ad accessible to them.

That's where advanced video analytics comes into play. Tools such as YouTube Insights, Wistia, and Brandwatch will show you how viewers are engaging with your videos and their level of interest so you can determine who your key audiences are. These platforms use key insights to track viewing impressions, play rates, referral sources, and total views per viewer. Additionally, these video metric tools can give you traffic sources, audience retention, demographics, playback locations, device types, and more. In all, providing all the data you need to personalize your company's videos to connect and build stronger relationships with the right audiences.

Personalizing your brand video to target the right people
Personalized videos allow brands to connect with prospects and clients on a deeper level through customized communication strategies. For instance, a custom-tailored video may have someone's first name or company name in the content or include hyper-specific information that targets their particular needs. According to research done by everage.com, 96% of marketers believe that personalization helped advance customer relationships faster than a generalized mass-produced marketing effort.
Leverage Marketing Videos At Each Stage Of The Sales Funnel
Strategically leveraging specific videos at particular stages of the sales funnel (whether for B2B or B2C funnel) can help guide a prospect through your intended process of conversion. That's why it is important to have a variety of videos in your marketing toolkit. Let's explore them further here:

Videos for Brand Awareness - which is perhaps the most crucial stage of the sales funnel - should grab your target audience's attention and introduce your company offerings. The best videos to accomplish this are:

Explainer videos

Commercials (TV and streaming /subscription TV)

Social media videos

Product videos (e.g., unboxing videos, product tours, how-to videos, testimonials)

Content marketing videos

Videos to Spark interest and consideration begin at the next stage of the funnel to give consumers a deeper audit of your company and products/services. The instant prospects become interested in your brand, they tend to compare your company to other competitors. For this reason, more targeted videos are needed to move prospects toward conversion. These can be:
Company culture videos

Product sizzle videos

Pre-event videos

Content marketing videos

As prospects edge closer to buying, videos during the intent and evaluation stages are used to help build confidence. These will range from the following types:

Testimonials

Case study videos

Product review

Product tutorial videos

Taking on the last leg of the sales funnel are videos to convert customers. These will be a recap of some of the videos used throughout different stages of the sale funnel, including:
Product tutorial

How-to videos

Explainer video

Content marketing video

Product video

Social media video

Testimonial

Create The Right Marketing Videos
As you can see, video is a powerful tool that can provide tremendous opportunities to get your brand message across effectively and to the right audience. They can provide multiple solutions in your marketing campaign, far more than brand awareness to additionally educate audiences, promote your business/products, drive conversions, and most definitely entertain in the process.

As mentioned, not all videos are the same. There's a range of videos with their own unique purpose to accomplish each of these marketing initiatives at different stages of the funnel.

Knowing and creating the right type of video content for your web page, social feed, or marketing campaign can be tricky. Our video creative team at Trifactor is here to advise and help you establish the types of brand videos you'll need at every stage of the marketing and sales funnel. Book a call with us today to get started!