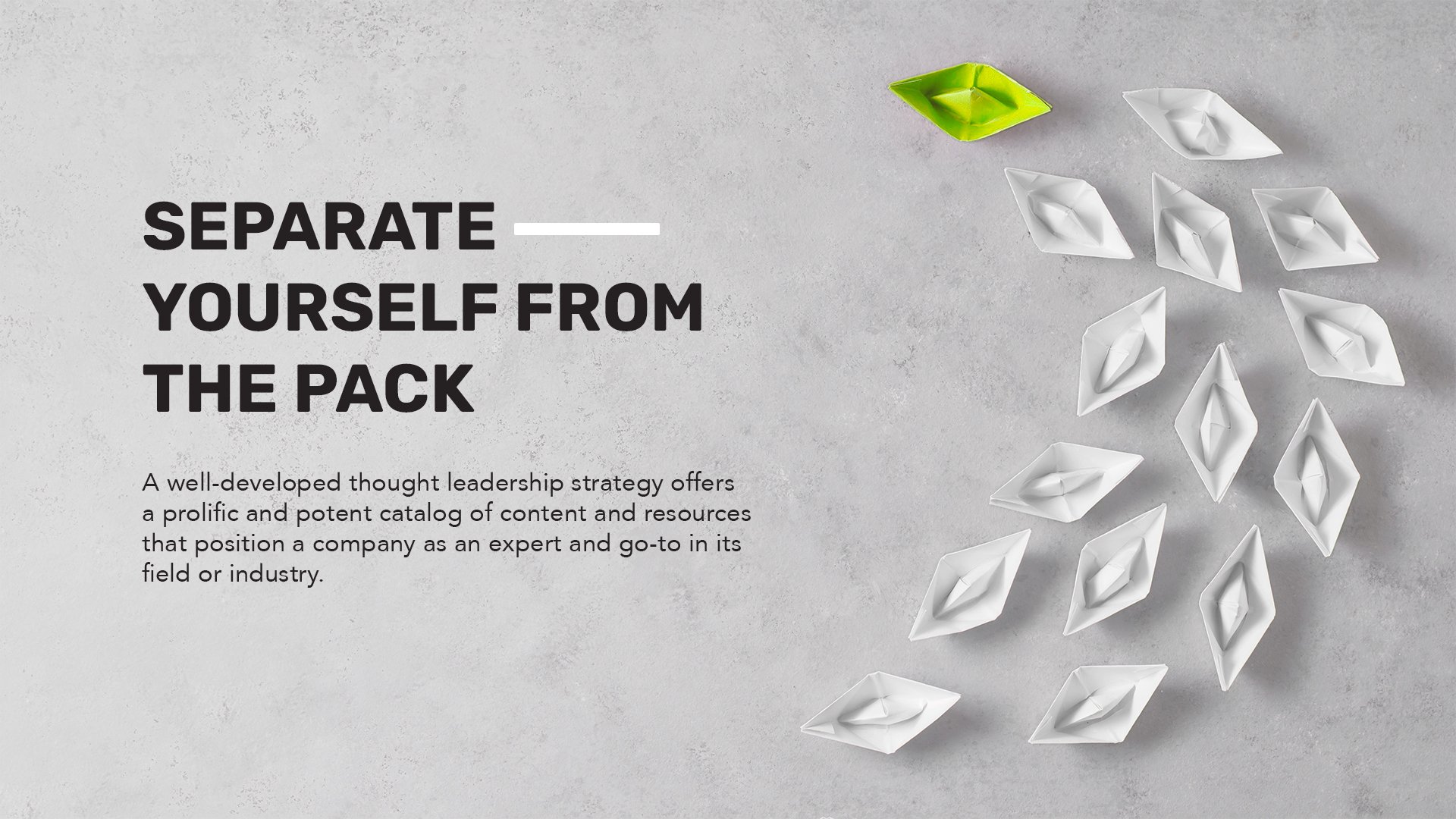 As businesses head into the competitive 2023 B2B marketing landscape, establishing a solid thought leadership strategy with video can help position a brand as a reputable and trustworthy choice among the pack. By utilizing LinkedIn and similar platforms, a well-executed thought leadership video can increase engagement, traffic, and exposure of company leaders and certainly lead to new business opportunities.Continue with us as we explain the importance of this marketing concept and how to establish a commanding thought leadership strategy through the power of video.
What is a Thought Leadership Strategy?
A thought leadership strategy is structured to leverage the knowledge and expertise of an organization with high-impact execution at every stage of the funnel.

The overall goal is to build credibility and establish trust in a brand or company. A well-developed thought leadership strategy offers a prolific and potent catalog of content and resources that position a company as an expert and go-to in its field or industry.

A thought leadership plan should deliver real value to audiences, providing the education and answers they seek, backed by industry insights, and all-you-need-to-know information about the services and products offered – ultimately establishing oneself as a reputable brand. When executed well, thought leadership is a valuable marketing tactic that can significantly impact brand awareness and help you take your business to the next level.

To elaborate, a thought leadership strategy must include:
Industry Data: News, insights, viewpoints, trends, and future projections of your industry.
Product Report: Thorough knowledge of your solution, its purpose and benefit to buyers, and how it compares to the competition.
Brand Quality: Clearly defined values, mission, goals, perspectives, and vision of your brand.
Why Is Thought Leadership Important?
More decision-makers (over 55% via an Edelman and LinkedIn study) are consuming thought leadership content as a means to vet organizations. Of these executives, 45% said they were motivated to invite an organization to bid on a project, and 57% confirmed that thought leadership directly led to awarding business opportunities. As a result, 61% of C-suite executives said they were more willing to pay a premium to work with an organization that articulates a clear vision via thought leadership.

Thought Leadership Strategy Through Video
A B2B thought leadership marketing strategy has everything to do with aligning your brand to the mindset of your audience. To appeal well to clients, you'll need to refine your thought leadership marketing content to connect on their level, include third-party perspectives, industry insights, and support your brand initiatives. Through this process, you also want to ensure your thought leadership content is accurate, digestible, shareable, actionable, and relevant to your audience, especially decision-makers and C-suite executives. More than half (57%) of decision-makers said their preferred format for thought leadership is concise, "snackable" media they can digest in a few seconds.

Thought leadership videos are the best strategy to execute these tasks, more so than any other content medium. As opposed to whitepapers and blogs, thought leadership videos can quickly offer audiences automated illustrations and savvy infographics, combined with recorded speaking sessions and commentary from the top decision-makers and subject matter experts (SMEs). A thought leadership video can also be used as a powerful resource to further learning, which helps clients to depend on and trust your brand.
Great Execution Through Video
As mentioned before, a thought leadership strategy that conveys trust is built on credibility (integrated with genuine insights) and demonstrated expertise by show of the top decision-makers and subject matter experts (SMEs) within a company. So your thought leadership marketing content (whether video, whitepaper, or blogs) should demonstrate these qualities and leave a lasting impact on audiences.

As video creators in the marketing sector, we're here to tell you nothing executes thought leadership strategies, campaigns, and original B2B content better than video. Thought leadership videos are the best way to engage, educate, boost trust, and influence hard-to-reach audiences.

According to HubSpot research, 66% of buyers trust and depend on video content (i.e., product demos, reviews, FAQs, unboxings, etc.) to learn about a brand or product. In fact, buyers expect reputable brands to share their offerings through video content. Videos allow buyers to see the authenticity of a service or product and how they work in real life. Visuals can also answer questions buyer's didn't even know to ask, identify perks they might not have been privy to, and sometimes discover limitations that a text-based description could not communicate.

Once you've created your thought leadership video, there are no limits to its distribution, as video can be shared across multiple media channels and social media platforms.

Effective Thought Leadership Marketing Through Video
Creating and developing your thought leadership marketing video is a completely different ball game than putting it into effect. In order to engage with the right decision-makers and reach buyers and business audiences, you'll need to consider marketing them in the best places.
The Power of LinkedIn
Promoting your thought leadership video on a business-driven platform such as LinkedIn, which hosts a community of more than 600 million professionals, is an excellent place to execute your B2B marketing campaign.

Brands can benefit from LinkedIn's robust targeting capabilities to pinpoint buying audiences and those who will find value in your brand. The platform is a terrific place for businesses across multiple industries to make their voice heard, listen to others, and inspire one another.

LinkedIn marketing also provides opportunities to extend the reach of your thought leadership content by partnering with Influencers who share your values. Pursuing mutually beneficial engagements allows you to tap into their networks and vice versa. So be sure to follow prominent influencers, groups, and hashtags within your niche to keep a finger on the pulse.
Build A Strong Social Media Presence
Another great way to fuel your thought leadership marketing campaign is doing so on social media platforms. It is without a doubt that the majority of your industry audience is already on social media, so what better way to engage with them than going directly on the platform?

Take to apps like Twitter, Instagram, and Facebook and promote your thought leadership video, then prompt conversations and share answers to their frequently asked questions to get the momentum going. Building a strong presence on these platforms will undeniably increase brand awareness.

LinkedIn and social platforms also help you to see what your competitors are doing. More often than not, they are also promoting their thought leadership marketing content through these channels. This gives you the perfect opportunity to see how your brand sizes up, and discover loopholes in your own strategy. In all, giving you the ammo you need to bolster your thought leadership campaign.
Create Your B2B Thought Leadership Video Today!
Establishing a solid thought leadership strategy positions your organization as one of the leading minds in your field and industry. They are crucial to reinforce brand reputation, therefore earning trust from key B2B buyers and decision-makers.

Building thought leadership content for your business is especially time-consuming and challenging, as it requires significant research and technical input; creating a video for such is no exception.

Our video creators at Trifactor are experts in producing thought leadership videos; we can help with anything from B2B brand strategy to conducting interviews with SMEs and creating script content for you. Feel free to speak with our agents to discuss how we can begin creating strong, compelling, accessible, and impactful thought leadership marketing videos for your company today.