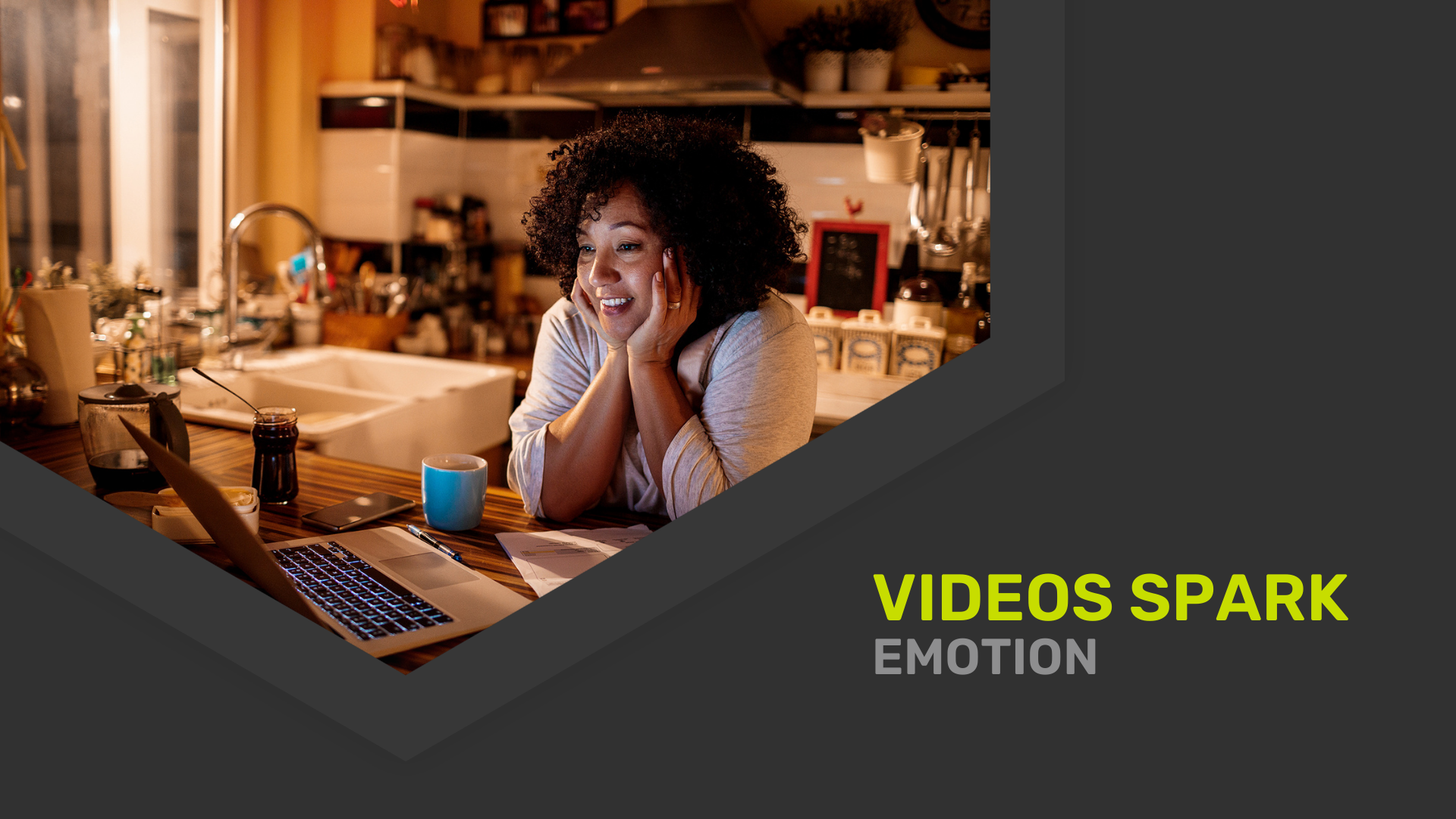 Over the years, we've noticed that franchise conventions are a gold mine for knowing what works and what doesn't in terms of franchise marketing and lead conversion. There's nothing more gratifying to a marketer (especially us at Trifactor) than stopping a franchisee in their tracks to uncover how their journey to franchising came about.
Somehow knowing exactly which content pieces move leads down the funnel and why can feel like winning a game of Connect Four over and over again. So we make this part of our process at the agency, especially when developing a concept and writing a script that attracts the right buyer persona.
In this article, we share what we've seen work best and ways franchise marketers can step up their game to create a discovery process that feels authentic and wins over new candidates in the most efficient way possible. So buckle up and hold on tight because we're going on a roller coaster ride of emotions to help you understand how video can influence a sale like no other piece of content.
The Emotional Roller Coaster
Our field work shows that the franchise discovery process is a VERY emotional one and your content needs to connect at that level. The decision to franchise comes with a dramatic lifestyle change and commitment. So it's a big ask. Many candidates pull from their life savings to bet on entrepreneurship. And although the idea of being your own boss can be exciting and attractive on its own, the truth is much of the content out there does not address the scary feeling that comes from putting up the money to start a business.
The franchise selection process is a roller coaster ride with plenty of ups and downs that can either make you sick to your stomach or inspire you to finally pull the trigger and pursue the dream of entrepreneurship. Just know that along the way, video content can make the ride entertaining, pleasant, and exhilarating — all depends on how intentional you are about your video marketing efforts in your franchise development process.
A good video marketing strategy addresses fear head-on, sparks excitement, and helps candidates manage a slew of emotions. Most people usually start the franchise discovery process with curiosity and intrigue. They're online searching like crazy, especially on Google and Youtube. YouTube is one of the search engines they are using. According to HubSpot, Youtube is the internet's second-largest search engine, YouTube can help improve your SEO and overall brand presence. That's why your competitors could be there, getting found and disrupting your sales process at the same time.
This is when candidates move to uncertainty and start to feel anxious. They're undecided. They start to overthink about which brand and franchise model is better for them. They don't feel confident at this stage, and it's your video strategy's job to enlighten them towards the path to a better way of life. In fact, the content they see can make or break their decision to franchise. All of this happens before they're convinced that your franchise is the right move for them.
According to Wistia, the storytelling power of video helps brands connect with their audience in authentic and meaningful ways, which is one of the reasons so many franchises have turned to this tactic. However, not all do it with pizazz.
We think before we act
At Trifactor, we never create videos just because. That's a big no-no for us. Videos spark emotion so we think carefully about how we can use video to reduce uncertainty and boost excitement throughout the sales process. When consulting with franchise development managers, we dig deep about where people get stuck in the sales process and we're blunt about what actually moves the needle based on what we're seeing when marketing other big names in franchising.
And across the board, video content can make attracting new investors and franchisees better than any other medium. It allows for powerful testimonials to validate and help you convert, which is why 61% of marketers see video as a "very important or extremely important" part of their marketing strategy.
But as we said before, knowing your buyer personas is a critical first step in creating memorable and effective video content for your process. In fact, according to ITSMA, Increasing Relevance with Personas and B2I Marketing, 56% of companies have developed higher quality leads by using personas in their content marketing.
We don't cut corners. We want to pull on heartstrings, speak to the inner child, and get them excited about going outside of their comfort zone. We focus on humanizing your customer journey beyond relying on text on screen and stock-like photography to do all of the storytelling.
How to create videos that sell
At the beginning of the discovery process, the first thing a video needs to do is create intrigue. Garnering attention and interest is how you can drum up new leads and motivate them to hop on and explore what franchising looks like with your brand. We do this in the form of a 3-minute value proposition video that's bundled with 1-minute sizzle and a 15- and a 30- second social ad campaign to drive leads down the top of the funnel.
The goal is to get people to opt in to what you have to say, so launching ads on Google, Facebook, LinkedIn, YouTube are proven ways we convince the right people to come along for the ride. It's proven that Social media advertising campaigns bring numerous advantages to showcasing products and services.– Never create a video, pop it on your website, and walk away. Invest in short variations of that video to drive more eyeballs to your website, creating more chances for you to generate more franchise leads. Analyzing how that content is being consumed is another step you cannot afford to ignore- but we'll write a whole other blog article just on that. According to a SurveyMonkey Audience, 68% of marketers say video has a better return on investment than Google Ads.
Our goal as video marketers is to create high-impact video moments in your sales process that get people moving down the funnel with intrigue. Below are 2 examples of Franchisor Value Proposition videos. These assets are revenue-generating and turn your website into your best salesperson. We make sure you look current, sharp, and ready to impress. The energy in these videos is invigorating. The last thing you want to do is turn someone off with a video that really doesn't do you justice.
Value Proposition Videos
How do you know if your video does you justice? Get emotional with it. Play it for yourself by thinking exactly like your buyer persona and ask yourself if the video lacks personality and flair to connect on a human level.
Once you have someone hooked, please surrender to the fact that the qualification process can take anywhere between 3 months to slightly over a year if someone isn't entirely convinced about franchising upfront and isn't ready to take the plunge. You're not going to convert candidates with one video just like your email drip campaigns require more than one touchpoint. And that's okay. Just know your video marketing strategy needs to have longevity and fuel their desire for more, especially for candidates who need a little more convincing and are well past the six-month mark. We've seen this be the case for even low-cost franchises with franchise fees as little as $10,000. The good news is we've taken the time to give you more insight into what people want to see to convert faster.
Watch out: Your marketing is being judged
Always assume candidates are iffy about you. They want you to prove to them you know how to market well. Way too many brands overlook the fact that franchise leads are going to judge your ability to market and support them by the quality of your video content.
They are asking themselves: Are you a good storyteller? Can you connect well with people? How relevant are you? And were you able to reach them at the right time during their franchise discovery process?
Spending a little more upfront to create fresh, original content is always going to influence perception and convince candidates that you don't cut corners, but understand how to drive people in and get them to take action. Good videos are branded moments of excitement. They feel a certain kind of way. And for us, videos are going to be the fun part of the rollercoaster ride, especially if they can trigger the right emotion.
Strong Leadership & Access to Executive Team
A franchise system is just as strong as the executive team. That's why we now recommend that our clients build masterclasses featuring their executives. We know getting time on their calendars is tricky, so why not pin them down for a video that tons of candidates will watch along their journey over and over again- in their pajamas at 11 pm or during their break time if they're still working in corporate America. People are motivated by people and they want to see who the executives are beyond a leadership website page with professional headshots. Show them what they're all about with personality and style. This is going to create visibility and a sense of credibility to move leads down the funnel. Our masterclass product does exactly that. Below are some examples of how you should be featuring your executive team beyond an executive page.
Some topics that make sense to highlight:
How innovation sparks differentiation and consumer preference, securing a leadership position
Marketing advice with tangible ways to avoid making the wrong investment decisions
What kind of operational support will keep candidates excited about franchising
How you distribute video content is just as important as pre-production. Featuring videos in email drip campaigns and key landing pages are great ways to keep people engaged and excited about franchising. Just make sure each video also helps to reduce the level of uncertainty candidates feel during the discovery process. It's the difference between closing your eyes as you come down the steep slope and holding your arms up high, feeling that rush of conviction. To get the latter emotional response, always position your franchise as the option that's better equipped to market at the local level, set up to grow, and offers the best kind of social proof through videos that have tons of personality.
Day in a Life's validate candidates for you
One thing is for a candidate to speak to another franchisee about their growth and another to see them in action. Big difference. Day in a Life videos do exactly that, so we're big on sprinkling these emotional stories into the sales process as much as possible. Testimonials are great, but Day in a Life's are so much better. Don't be bland with your video content. Create something people will want to consume - full of flavor and pizazz.
Below is an example of a Day in a Life designed to validate candidates for you. In the sales process, this is going to be what helps people envision their dream of entrepreneurship. Our formula for Day in a Life's is unique and is going to be centered around the buyer persona with a drop of motivation at the end. We want the franchisee to feel connected to others who also went on the ride and chose to franchise with conviction.
Increase the perceived value of your franchise
A sophisticated, polished appearance will always convey more value. Good video content has the power to influence perceived value (or worth). Yet, not all videos accomplish this well. We have a formula that guarantees this and it has a lot to do with motion graphics. Yes, yes, yes… all of the video production elements play a role, but a video with the right motion graphics treatment will either make or break your video. Remember franchising is expensive, not only because of the financial investment, but because it requires time and resources on behalf of the franchise owners. You want to convey that your franchise is top-notch and well equipped to help them grow. A video sequence with well polished graphics will help you influence perceived value.